Beef tartar, urchins, celery, burrata stracciatella
Poached egg, spinach, parmesan cheese, truffle
Tortelli, roe deer, apricot, eggplant scapece (Neapolitan vinegar sauce), ginger and cardamom emulsion
Guinea fowl, lovage, curry, hazelnut
Mango, basil sorbet, white chocolate
The tasting menu is for the whole table
LIST OF ALLERGENI 1) CEREALS containing gluten like wheat, rye, barley, oats, spelt, kamut and associated cereals and by-products 2) CRUSTACEANS and crustacean-based products 3) EGGS and egg-based products 4) FISH and fish-based products 5) PEANUTS and peanut-based products 6) SOYA and soya-based products 7) MILK and milk-based products (including lactose) 8) NUTS like almonds, hazelnuts, walnuts, pistachio nuts, and their products 9) CELERY and celery-based products 10) MUSTARD and mustard-based products 11) SESAME SEEDS and sesame seed-based products 12) SULPHUR DIOXIDE AND SULPHITES higher than 10 mg/Kg or 10 mg/litre (total sulphur dioxide) 13) LUPIN BEANS and lupin-based products 14) SHELLFISH and shellfish-based products
Palamita, panzanella, peach sorbet, black olives
Ravioli, grilled tomatoes, sweet garlic, chive mayonnaise and pickled bergamot
Spaghetti Mancini, smoked bluefish butter, coconut, basil
Pork belly, licorice, saffron, pineapple
Pigeon, vermouth, green sauce, pepper and raspberry
Watermelon, rose and goat cheese ice cream, cinnamon, walnuts
The tasting menu is for the whole table
LIST OF ALLERGENI 1) CEREALS containing gluten like wheat, rye, barley, oats, spelt, kamut and associated cereals and by-products 2) CRUSTACEANS and crustacean-based products 3) EGGS and egg-based products 4) FISH and fish-based products 5) PEANUTS and peanut-based products 6) SOYA and soya-based products 7) MILK and milk-based products (including lactose) 8) NUTS like almonds, hazelnuts, walnuts, pistachio nuts, and their products 9) CELERY and celery-based products 10) MUSTARD and mustard-based products 11) SESAME SEEDS and sesame seed-based products 12) SULPHUR DIOXIDE AND SULPHITES higher than 10 mg/Kg or 10 mg/litre (total sulphur dioxide) 13) LUPIN BEANS and lupin-based products 14) SHELLFISH and shellfish-based products
FOLLOWING THE CHANGING SEASONS
CREATIONS
Poached egg, pecorino, truffle, spinach. A dish created in 2014 which has accompanied the chef throughout his entire career, ensuring strong feelings.
Spaghetto Mancini, cacio e pepe, celeriac, coffee. A dish created in 2020. Its distinctive feature: the use of black pepper passed through a coffee maker to soften its character, and the freshness of the celeriac which harmonises the traditional ingredients.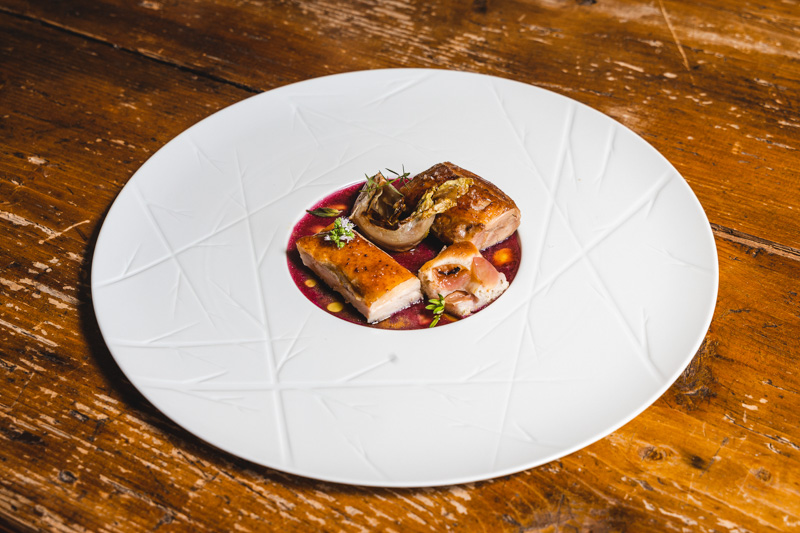 Guinea fowl, its giblets, grapes, braised endives alla verbena. A dish for 2020, evoked by the coming of autumn, with pronounced regional notes coming from the vines of Rocca delle Macìe.