Artichoke, topinambur, herring caviar, white chocolate
Piglet, mustard and honey, cauliflower
Mancini spaghetti, egg cream, white truffle, anchovies
Beef, fricasee, bottarga, tarragon
.
Dark chocolate, coconut, blue cheese ice-cream, gianduia
Tasting menù Carta Bianca
.
5 courses selected by the Chef
.
Poached egg with pecorino cheese, white truffle, spinach leaves
.
Anglerfish cheek, noisette sauce, green apple, gin tonic celery
.
Stuffed tortello, cheese and moka pepper, mushroom mousse, celery root
.
Fresh chitarra pasta with rabbit, Vin Santo, and plums
.
Pigeon, garlic + bergamot, coffee
.
Chestnut, mandarin, butter and vanilla ice-cream, Tuscan spices
Wine List
FOLLOWING THE CHANGING SEASONS
CREATIONS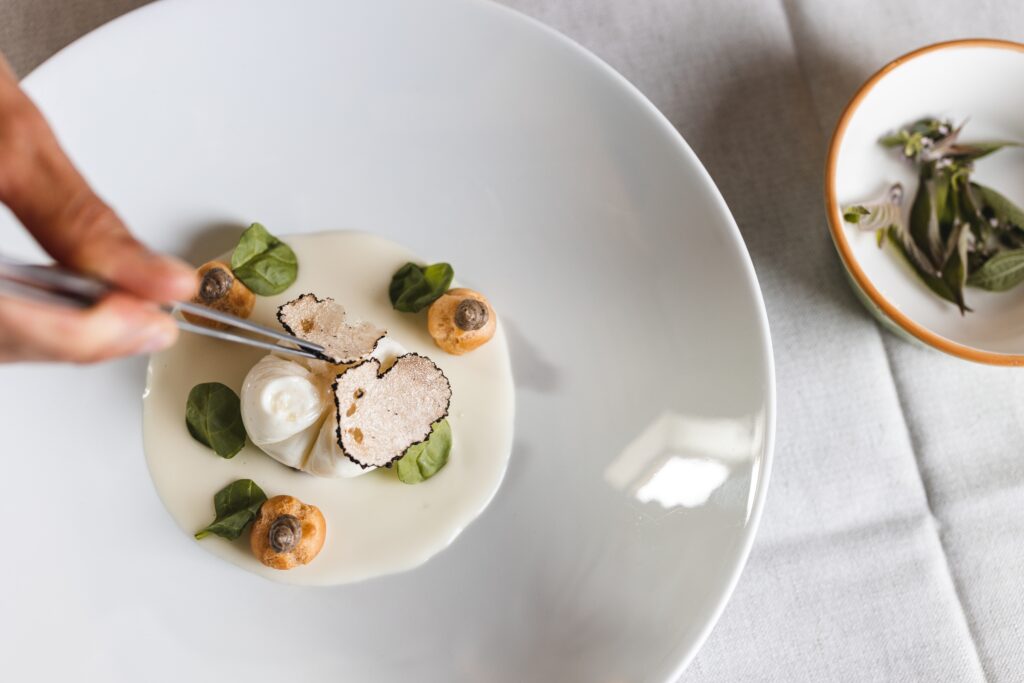 Poached egg, pecorino, truffle, spinach. A dish created in 2014 which has accompanied the chef throughout his entire career, ensuring strong feelings.
Spaghetto Mancini, cacio e pepe, celeriac, coffee. A dish created in 2020. Its distinctive feature: the use of black pepper passed through a coffee maker to soften its character, and the freshness of the celeriac which harmonises the traditional ingredients.
Guinea fowl, its giblets, grapes, braised endives alla verbena. A dish for 2020, evoked by the coming of autumn, with pronounced regional notes coming from the vines of Rocca delle Macìe.