PASSION AND REGIONAL PRIDE
ABOUT US
Passo Dopo Passo
2020 marks the start of a new gastronomic experience in the Fizzano complex, owned by the Zingarelli family. Those flavours found season after season in the family vegetable garden, amplified and presented to provide a refined experience for all, in the same way as the philosophy that has accompanied Rocca delle Macìe since its creation.
CHEF
MAURIZIO BARDOTTI
Class of 1978, exceeded all of the milestones with expertise and humility, which led him to become serious and passionate about his profession. "I feel a great harmony with this place, due to the air that you can breathe, together with a young and motivated team, and the enthusiasm of the Zingarelli family. My cooking is based on the flavours of our region, Tuscan cuisine has made me the man I am today. I offer dishes that start with this base and which are honed using techniques and flavours because, as with wine, all regional produce also maintains its identity and transfers it to the dish, offering up unique and inimitable sensations."
MANAGER
GIULIA ZINGARELLI
In the restaurant, the smile and keen eye of Guilia Zinagarelli, who has been passionate about this new project from the beginning, closes the circle of a sensory journey that begins in an incredible place and passes through the expert and passionate hands of a chef who lets the region elegantly speak for itself.
A DIALOGUE BETWEEN THE LANDSCAPE AND THE KITCHEN
THE FAMILY VEGETABLE GARDEN
The vegetable gardens, spread over their three estates - Fizzano, Sant'Alfonso, and Le Macìe - used solely by the family until 2019, have been expanded and made available to the new restaurant in order to offer the freshest produce, picked daily by our gardeners. A new project that gives us those authentic flavours, which have been forgotten in part, that can now be rediscovered thanks to careful research of old and new varieties of vegetables and fruit plants. All perfectly coordinated so that the experience of the landscape serves a cuisine that truly requires consistency, in terms of both quality and quantity, to ensure the seasonality of the menus we offer.
FOLLOWING THE CHANGING SEASONS
CREATIONS
Poached egg, pecorino, truffle, spinach. A dish created in 2014 which has accompanied the chef throughout his entire career, ensuring strong feelings.
Spaghetto Mancini, cacio e pepe, celeriac, coffee. A dish created in 2020. Its distinctive feature: the use of black pepper passed through a coffee maker to soften its character, and the freshness of the celeriac which harmonises the traditional ingredients.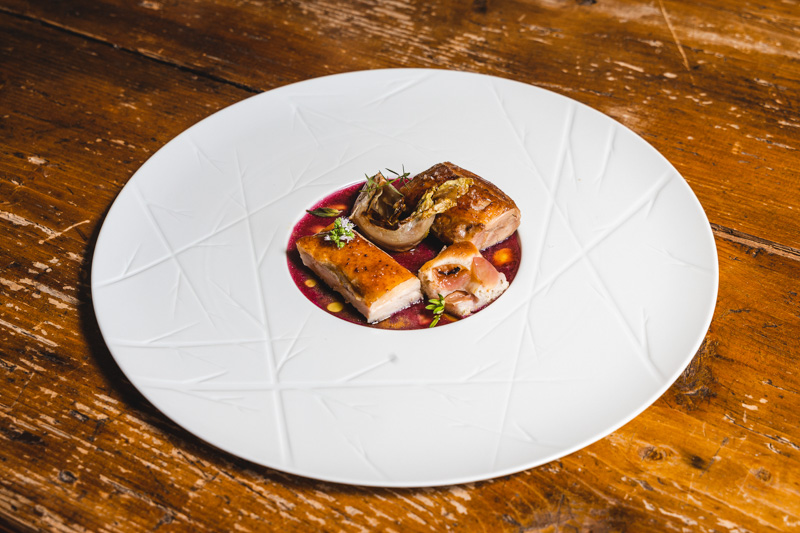 Guinea fowl, its giblets, grapes, braised endives alla verbena. A dish for 2020, evoked by the coming of autumn, with pronounced regional notes coming from the vines of Rocca delle Macìe.